"Walking the talk" with virtual learning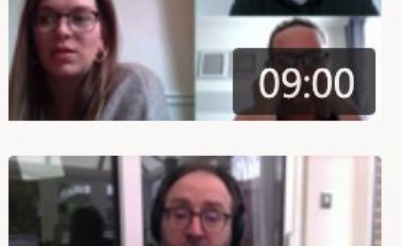 We have asked you to go the extra mile with virtual learning - it was only right that we should rise to the challenge of a completely virtual INSET DAY
Over the last two weeks the staff at Barnhill have been asking you, (if you are a student) and your children (if you are a parent or carer) to access on-line lessons and complete web-based challenges. This has involved the students keeping to a self-disciplined schedule to log in at the right time with the right teacher - no chance now to follow a student round the school to the next class. We have asked the children to sign on to registers, switch programmes, enter usernames and passwords, contribute in special educational chat rooms, return assignments, collaborate on-line and learn the etiquette of conference calling. We have given your sons and daughters a monumental challenge and they have, smashed it out of the park.
So, given the hurdles we have asked our students and their parents to jump over, it only seemed appropriate that we should ask the same of ourselves and so we decided to host our first, completely virtual, Inset Day complete with live streamed sessions, interactive forums, videos and quizzes.
We used the same software we have given you to use, namely Microsoft Office 365 and especially its 'Teams', 'Forms' and 'Stream' applications to plan, rehearse and then, on Friday 3rd April, host this ground breaking event. The planning and rehearsal were crucial; we had many hours the day before on calls most of which was spent testing procedures which lead to some unexpected and potentially de-railing technical issues being resolved in the nick of time.
Just like many of our students, many of our staff are new to this way of working too. Twenty four hours in advance we issued a short preparatory and interactive video to allay staff fears and give them an opportunity to respond with concerns. From one of the responses it was clear we had not covered a particular matter worrying some - namely, we had not reassured staff that they would not be seen. We were able to issue an all-staff communication immediately via Teams to explain we were not going to be asking staff to be visible on camera. This preparatory video was watched over 120 times before the event which means either some staff members enjoyed it more than once ( unlikely! ) or that almost every member of staff had taken the time and trouble to watch it. We asked all staff to buddy with one other colleague and make a call via 'Teams' to ensure the device they would use on the Friday was working as needed. It was extremely encouraging to see other members of staff stepping in and responded to other matters that the leaders missed (but won't next time!) by creating additional information and even a video for their colleagues.

On the day itself, we asked all staff to join the conference presentation on 'Teams' at 8.50am. As presenter of the first session I knew that the staff were giving this their best shot when I had support staff logging in to test their connections at 8.20am. From that point on the tally of callers on my screen just kept rising. In a rehearsal the night before with Ms Maughan (thank you for that!) I had said that if we had 70 people logging in without a problem it would be a miracle. The last time I looked at that figure, before I had to switch my attention to presenting at 9am, was 89. During that period, as staff joined, many took the opportunity to use the space to break silence, chat, joke and enjoy the chance to catch up. There was a great atmosphere in this virtual staff room and my spirits were lifted by both the camaraderie and the apparent absence of technical issues.
During the first five live streamed sessions, the presenting team of Mr Potts, Ms Monteiro, Ms Leonard, Mr Khan and myself covered a range of subjects including giving feedback on-line, behaviour for virtual learning, the use of 'Class Notebook' and 'Kahoot' and many other topics. The staff were also asked to further enhance their Safeguarding training with a recorded powerpoint and quiz created by Ms Hernandez.
All the sessions were simultaneously recorded to create a video resource for staff to use, as and when, and on any device. Yes, we smashed it out of the park too!
We hope that gives you encouragement that we are not asking of you, our amazing students and parents, any more than we are asking of ourselves. In this very unfortunate time in which we live, you have risen to the challenge of working virtually and we, as a staff, are doing that too. We have done this because of our determination to give you and your daughters and sons every possible chance to succeed in life, no matter what.
As the Queen said last night, one day we will meet again; we will return to our real classes and Inset Days one day, but in the meantime, we will keep teaching by all and every means, for you and yours.