Year 7 Jazz research hits high note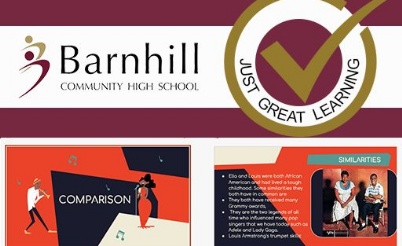 Year 7 have explored North American Jazz during the lockdown. Check out this selection of Super Stretch Challenge work from Sufia, Aisha and Mya.
Classes in Music covered content guided by their progression, in other words, what students covered in one lesson was greatly influenced by their understanding in the previous lesson. This led to students being taught and researching, material designed to stretch them. You can see three examples of Super Stretch Challenge (SSC) written work produced by a couple of classes. One criterion for SSC was:
"Create a detailed presentation on the features of Jazz Music in the USA giving examples of Artists, what 1920s events helped increase the popularity and how Jazz music helped to ease racial tensions in the USA in your presentation. You should include an overview of different styles of Jazz, and also look at one artist in depth. Include you-tube clips"
The other was:
"Create a detailed PowerPoint on 2 artists – one taught and one researched comparing their style and music. You should include an analysis of the impact these artists had in the Genre of Jazz, how their careers changed over time, and include you-tube clips to support your points."
Students then went on to use online composing software and are currently composing modern North American inspired music!