New Barnhill Record for Recital of 'Pi'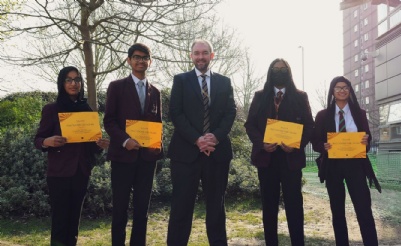 Pi - May not be to everyone's taste but 17 students had the appetite for it on 14th March!
For people who follow the month/date format, March 14 represents the value of Pi (3.14). March is the third month of the year, which is also the initial number of the value. The following number is 14, hence the March 14 date. It is an annual opportunity for maths enthusiasts around the world to recite the infinite digits of pi.
At Barnhill, we held a competition to see who could remember the greatest number of places and a new Barnhill record was set by:
Vaishnave and Aryan who both managed 202 decimal places and will each get a calculator as a prize. Vaishnave said she managed 250 places in practise and Aryan admitted to being lucky by guessing digits 201 and 202!
2nd place was Noor who remembered 191 places and Maksuda came 3rd by recalling 153 places.
The average number of places for recall amongst the 17 competitors was 101.
Mr Jones awarded the students a coveted 'Gold Headteacher award' and was very impressed with their performances.