Students interview Royal Navy Captain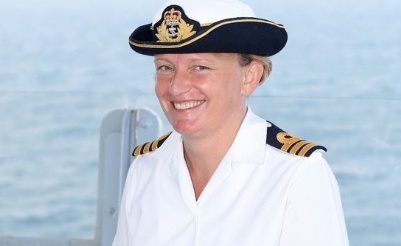 Barnhill Young Reporters conduct their first live interview
As part of the preparations for marking the 75th Anniversary of VE Day, Mr Potts organised an interview with Captain Jude Terry OBE RN. The interview covered topics such as the importance of VE Day Celebrations, the Nazi occupation of Jersey, and Captain Terry's career in the Royal Navy to date.
Different sections of the interview were shown to different Year Groups as they commemorated the 75th anniversary of VE as a school wide event.
After the interview Captain Terry said she was thoroughly impressed by the effort and preparation of the students involved. The interview marked the premiere live event for a new Enrichment club called the Barnhill Young Reporters, selected and led by Mr Dixon. The group has already written a substantial article for the May Newsletter, and this was a chance for Safiah, Riyan, Dionne, Rohan and Billy to develop live interview techniques. Science Teacher and Technology lead Mr Gaskin rehearsed the interview, obtained parental consents, then produced the interview via Zoom.
Captain Terry's OBE was in recognition for her work in the Permanent Joint Headquarters (PJHQ), Northwood, during the period in which UK forces were redeployed from Helmand, Afghanistan. and whilst employed as the Military Assistant to the Chief of Joint Operations.
The full interview can be seen at https://youtu.be/XSspBCcT0cI