Music Mark awarded to Barnhill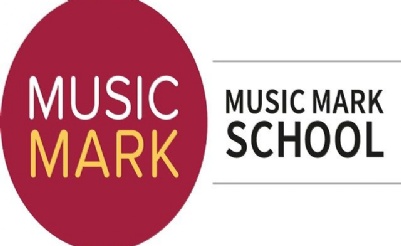 The Music department was thrilled to receive a certificate from Bridget Whyte, Chief Executive of Music Mark 'in recognition of a commitment to providing high-quality music education for all children and young people'.
Music Mark is supported by the Associated Board of the Royal Schools of Music.
Course Leader for Performing Arts Mr Potts said "we were thrilled that we were nominated by the local Council. It's super to see the efforts of students and staff recognised in this way." Music Teacher Mr Mann added "our students worked really hard last year. Despite the lockdown we obtained music qualifications equivalent to an A or A* across the board. All of our qualifications were audited by the exam board too! As icing on the cake they are using our marking as exemplars Nationally, which is a great feeling to know we are on track to deliver in the future as well."
Miss Grainger, a new music teacher at the school, noted how busy she is issuing special passes for students to receive music lessons. "We have new starters in cello, violin, trumpet, flute, clarinet and sax this year to add to a growing list of singers and pop musicians. It's great to see students flourish learning an instrument."
Does your child want to learn an instrument? If so ask your child to speak to their music teacher. The links between increased confidence, improvements in numeracy and independence are well proven. As is the enjoyment learning an instrument can bring.