Westend Star gives exclusive interview and Masterclass at Barnhill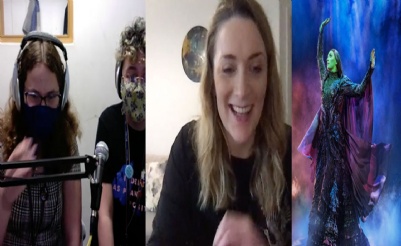 Laura Pick plays Elphaba in Wicked! Probably the greatest female lead role currently available in theatre. She took time out from preparations to reopen at the Apollo Victoria to speak to Barnhill students, in an exclusive Enrichment event organised by Mr Potts as part of our Character Curriculum.
Tayla (Year 12) and Molly (Year 13) hosted two consecutive interviews with Laura, which was broadcast to various Year groups (and staff) around the school via Microsoft Teams, keeping social distancing bubbles intact.
Live from the Radio Room at Barnhill, Talya and Molly asked questions previously submitted by students, and put questions asked via the live chat room to the Westend star. Laura gave an insight into the Musical Theatre industry and her career journey so far.
Mr Potts had sent Laura performance tapes of a number of students in advance, and Laura was able to give masterclass advice live to students. Her overall view of Barnhill's performers? "Absolutely fantastic! There is so much talent in your school" Laura said. She was particularly impressed with a performance from The Colour Purple shot at last Year's Senior Showcase, where Kaya (then Year 11) brought the house down. "It's at the standard you need to go for an audition" Laura said. Izzy (Year 11) and Holly (Year 12) received glowing praise from the Wicked! lead, and all three were given pointers to consider in future performances.
Laura herself delighted everyone with two world class performances herself during the interviews, including one from Wicked! entitled "The Wizard and I", known as one of the most difficult songs in Musical Theatre. Mr Potts said "I am so proud of our students at Barnhill.
They gave a brilliant account of themselves. I've seen Laura perform on a number of occasions, she is world-class. For Laura to give the level of praise she did to our students, it really means so much to them. Our two interviewers were superb. They kept the show running like pros whilst receiving live questions and prompts whilst live 'on air'. Well done Tayla and Molly.
Check out what some of the 800 students involved said about the event below:
"Being able to interview Laura Pick, along with another student, was truly an honour. It was honestly inspiring to say the least and being able to listen to her advice and life-story was highly informative and really gave me an insight of the world of Musical Theatre. This opportunity was amazing and I really would like to thank Laura for today as she is truly an inspiration for others, especially aspiring performers!"
Tayla, Year 12
"Meeting a West End performer is such and astounding and honourable experience. One could only dream after watching Wicked the musical multiple times, to meet someone who plays one of the main characters - it's such a great opportunity. I was so grateful for the amazing feedback that I received from Laura which i will definitely put into my A level performance. Thank you so much Laura you are such an inspiration and admirable person."
Kaya, Year 12