Awards for Anti-Racism Event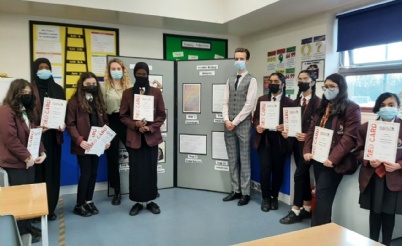 Year group and Key Stage winners celebrate success
We recently reported on a 5 session event where Year 7 - 10 discussed issues relating to Racism and prepared for a National competition in creative writing and art relating to the theme of Racism.
After the HoY announced the winners, they were presented with certificates and reward vouchers by Headteacher Mr Jones as a special gathering.
Year
Art
Creative Writing
Key Stage
7
Sukhmani Gaba
Eieshal Farakh
Hannan Mahamed &
Jugaad singh Nagpal

8
Harsimran Gaba &
Jugaad singh Nagpal
Joint winners
Ishaaq Nanhuck
9
Safiah Edoo
Hannan Mahamed
10
Safa Akbari &
Rahma Mohamed
Joint winners
Sadiyah Edoo
Safa Akbari &
Sadiyah Edoo

The competition was exceptional and in some categories, the judges could not separate the top two. A thousand students took part in a drop-down Character Curriculum event organised by Deputy Headteacher Miss Hernandez and Whole-school Enrichment lead Mr Potts. Mr Potts noted, "We drew on the range of expertise in the English and Art departments and would like to thank the significant planning, input and judging from Mr Dixon and Miss Balcomb who took a lead role in the competition element of the event." Students were introduced to a variety of creative concepts, and work by BAME artists. Now the Key Stage winners will be entered for our maximum allowed entries into the National competition, and a chance to meet the footballers, celebrities and others at an arena later in the year. Thanks also to Ms Palmer, the HoY teams and Mrs Monterio and Mr Balu.
The piece of Art winners are below, and the Creative Writing winning entries can be downloaded from the links below. Outstanding work from everyone.