Y8 Trip to Hampton Court Palace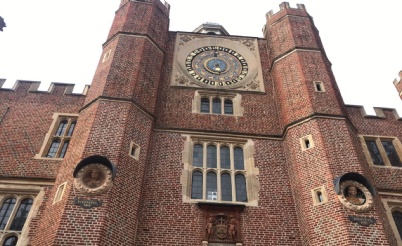 Marc from 8A recounted his day trip to Hampton Court on the recent Deep Learning Day
On Deep learning day, my first ever trip in high school, my eyes and my heart screamed with joy. Phenomenal!
In fact, 'phenomenal' would be an understatement.
What was the place so mesmerising and informative you ask?
Hampton Court!
The most infamous monument which represents the legacy and the lineage of the monarchs before this era. The Court signified the daily life of most monarchs, Especially King Henry the VIII. The entrance was a mesmerising treasure, eyes shoot about to ingest the beautiful view.
There were also many convenient places within Hampton Court, for example a bakery, the small beer shop, and a massive kitchen to make the scrumptious banquets. Bakeries filled the air with taunting, aromatic scent of fresh baked goods, captivating the people to spend their money. The grand kitchen working hard to satisfy the growling stomachs of their majesties. Really takes you back to the olden days, of what it was really like.
Within the interiors of the Court, religious paintings would stare you in the eye wherever you went. There were paintings of the Old testament and the legacy of Jesus and his sacrifice for the sins of mankind and his impact on Israel and later on the world. This shows how religious everyone was during the age of the Tudor monarchs.
After gazing on the interiors during this epic journey back in time we were bound to head outdoors, where all the fun was. There were glorious flowers blooming to grasp your attention.
Later we embarked on the landscapes of the garden, where animals such as ducks and geese would be, as well as a gate to go to the woods to hunt, where most of the King's fun took place. There was a very beautiful fountain there.
Against the backdrop of glamorous views, we learned what happened on a daily basis and how the King's throne room would be riddled with jesters.
Thank you to Mr Khan and the entire history team for the experience of a lifetime.