A Stylish Lesson ​​​​​​​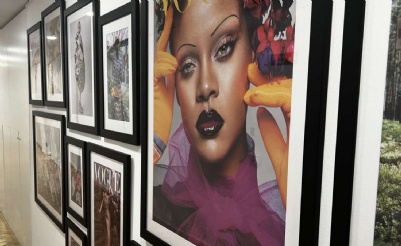 Sabirin & Nagad, Sixth Form students, spent a day at Vogue and reported on their experience
When we first arrived at Vogue House, we met the Operations Manager, Timothy Harrison who introduced us to Vogue Magazines publications and, through conversation with him, we were able to gain a better understanding about everything Vogue.
We took part in a number of activities, from having a tour of the entire building and getting a privileged insight into how each department of Vogue Magazine operates, to having a talk with the Editor-In-Chief and European Editorial Director of British Vogue himself, Edward Enninful! We talked about his passions for the fashion industry, school life and career possibilities. He is an inspiring character and he welcomed our questions, encouraging us to explore his knowledge about his wide range of interests.

We competed against students from other Sixth Forms as we designed mood boards to express interests of our own. For our board, we designed one which focused on the impact of feminism throughout the years; how femininity is portrayed by predetermined societal standards, delving into what it looked like through outfits and how, as gender stereotypes break, women are more liberated to express themselves. We were inspired by the talks of women in media, such as Rihanna, on Vogue runways.
Overall, it was a fun and exciting day and we both agreed that it has certainly opened our minds to different career options. We were both so grateful to have been chosen. It was an amazing experience!