Students donate food and over £600 to Homeless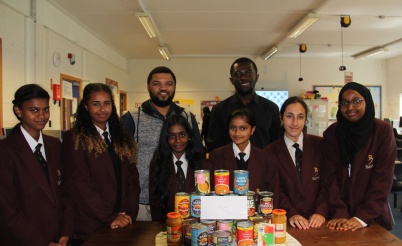 Child Development students raise money and donate food to Hillingdon Foodbank
You may have seen our earlier story last term about the Year 9 Child Development students who presented their research about homelessness in Hillingdon to John McDonnell MP and the head of the National Education Union. Well - things got even more impressive when the students held a non-uniform day before the Summer break, for which students across the school donated cans of food and £1 each if they were able.
Now that these Child Development students are in Year 10, the money has been counted and the food has been collated. The students raised a total of £602.90 and collected hundreds of cans of food - just take a look at the photos below!
This money and food was donated to Hillingdon Foodbank, to help feed homeless people in Hillingdon. Two representatives from Hillingdon Foodbank visited the school to accept the donation, for which they were extremely grateful.
As well as conducting research, giving presentations and collecting food and money, the students also gave assemblies to all year groups at Barnhill to raise awareness of homelessness in Hillingdon.
We are very proud of our students for taking on this project and would like to thank all of our students for their generoisty!