DHL and Teach First visit Barnhill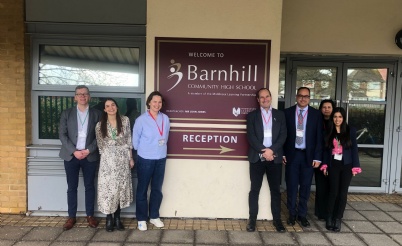 On Tuesday 21st March 2023, Barnhill Community High School hosted a conference for DHL and Teach First. The event involved the CEOs and Board members of DHL and Teach First learning about the context of Barnhill and the impact that Teach First has had on teacher recruitment at Barnhill.
Barnhill has been lucky enough to support Teach First trainee teachers at Barnhill since 2011, many of these staff are now heads of departments and in leadership positions within the school.
The team met with current Teach First teachers to hear about their experiences of training at Barnhill and with Teach First, staff shared their experiences of training and the support which the school had offered to ensure they teach great lessons.
Students also experienced a talk with the Board member of DHL who manages 11, 000 staff across Europe and the opportunities and challenges of working in such a large company and managing the logistics of all those deliveries.
Ms Katrina Winter
Assistant Headteacher - Curriculum