Picturing Language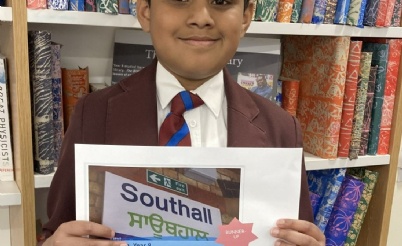 Our talented students have achieved remarkable success in the "Languages Local to You 2023" photo competition and exhibition, organised by the University of Essex. This incredible event celebrating diversity has been a fantastic platform for schools across the UK to showcase their creative talents. Our students from Barnhill have truly left their mark.
Sahil and Maisha, two exceptional Year 11 students, have been shortlisted for their outstanding entries. Additionally, we are incredibly proud of Arishtan, a talented Year 8 student, who has achieved the runner-up position in the competition.
Their awe-inspiring photograph, representing languages beyond English, demonstrates our students' artistic perspective and creativity. The exhibition was launched in the Forum at the University of Exeter and will travel to London, Sheffield and Manchester.
This event provides an excellent opportunity for our school and community to celebrate the diverse languages and cultures that make up our society.
Congratulations once again to Sahil, Maisha, and Arishtan for their remarkable accomplishments. Keep shining and continue to explore the rich world of languages.