An 'Over'-ly enjoyable trip to Lords Cricket Ground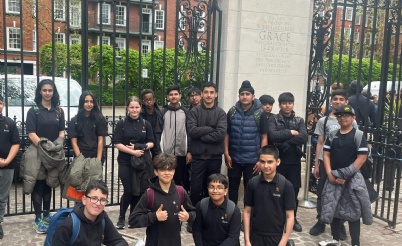 Mr Khan took a group of students to the famous Lords cricket ground to watch the Inter Services T20 cricket match on 10th May. Anika, Y9, shared her experience.
Firstly, I would like to thank all the teachers for organising such an enjoyable and educational trip. This trip has allowed many of us to develop a range of different skills which we will be able to demonstrate when playing cricket in the future. The match was truly the best part of the trip.
Watching the army women play truly inspired me as a cricketer to continue to pursue my dream of playing for England one day. The batting skills from the army team were phenomenal, within 13 overs they had scored 91 runs for only one wicket, and only 7 more runs left to win!
Soon after the match we were given a coaching session, which was – along with being educational- an immense amount of fun. We were given the chance to play several games, all of which allowed me to demonstrate some of my cricketing skills and additionally learning something new.
Overall, this trip was one that will forever be a major contribution towards my love of cricket, and again I would like to thank all the teachers for organising such a rewarding opportunity, not only for me, but for all that went.