Students hold Christmas lunch for local Senior Citizens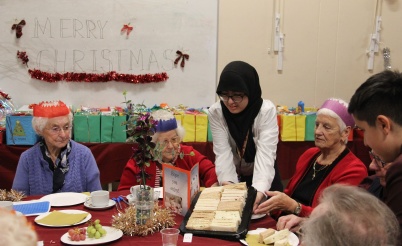 Prince's Trust students deliver a festive afternoon!
On Thursday 6th December, Barnhill students held a Christmas Afternoon Tea for forty-eight local senior citizens as part of the Prince's Trust programme.
The students prepared and cooked all of the food, decorated the hall, made menus, served food and drinks and pulled crackers with their guests! As well as a delicious meal, the afternoon consisted of a raffle for which there were thirty prize hampers, each made by students at Barnhill. Guests also enjoyed a 'guess the weight of the cake' competition, Bingo, live music performed by Barnhill students and a performance by this year's cast of Barnhill's school production 'Annie'.
One guest, Margaret, said, 'It is such a privilege to get to know these young people. They are an absolute credit to their school. You can tell they have worked very hard.'
Megi, a Prince's Trust student commented, "It was great meeting all the lovely people, helping them and hearing all the interesting and humorous stories from their lives."
The feedback from this event was overwhelmingly positive from both the senior citizens in attendance and the students who worked so hard to make the event a success.