A Level Literature Trip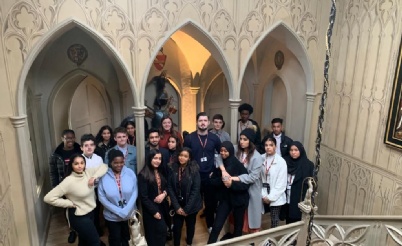 Strawberry Hill House
-Mr Devereaux-Ward
'In order to develop students' understanding of the Gothic - one of the core modules for A-Level English Literature - a trip was undertaken to Strawberry Hill House, Twickenham to learn more about a genre which was considered to be salacious, scandalous and shocking with it's thrilling depictions of violence, excess and the macabre. Students had an opportunity to learn more about the life of Horace Walpole, son of the first British Prime Minister, Robert Walpole and the author of the first Gothic novel The Castle of Otranto (1764) which liberated the creative conscious of a burgeoning middle-class readership who were fed on morally didactic works previously.
Students were provided with a tour around this Gothic-revival castle of curiosities with its gloomy subterranean passages, medieval inspired battlements and towers and invited to reflect upon some of the works in the collection which include the obsidian mirror of a Jacobean necromancer, a painting of a condemned murderess and a mirror which reflects back a distorted image of man's own dark nature which stimulated their curiosity and appreciation for a mode of Literature which has inspired many influential novels such as Frankenstein, Dr. Jekyll and Mr. Hyde and The Exorcist and many horror movies to day.
Following this, students had an opportunity to consolidate their knowledge of the texts being studied this year, The B- Chamber and Dracula through a workshop and lecture which enabled them to develop their essay writing skills in preparation for their assessment next term and found the trip to be both exciting and thought-provoking!