Wembley Stadium beckons Barnhill students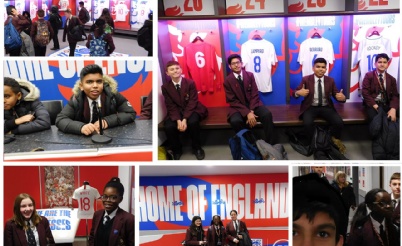 A group of Year 8 students enjoyed a VIP access-all-areas Enrichment trip this week.
Students sat in the historic England dressing room, gave their own press conference and enjoyed talks from staff who work at the stadium.
Students were picked for this visit by their Head of Year for excellent personal achievement in school to date.
"We learned about some of the history involving the previous and current stadium, and we visited the player's changing rooms and saw many pictures of famous players, games and singers who have all been through the famous stadium in past years. We visited the room where players can talk to news reporters after games. Overall, the visit was amazing and I would love to go on another."
Safiah
"It was amazing, we went to the dressing rooms and we saw multiple T-shirts of many football legends like Lampard and Messi."
Billy