Sixth Form Open Evening — 11th November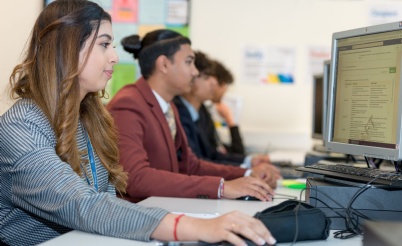 At Barnhill we understand what an important decision it is when choosing a Sixth Form for your child. Barnhill is a high performing Sixth Form in which the pastoral care and academic support of every child are our top priorities.
If you are unable to attend our Open Evening, we would be happy to show you around on another day. Simply email enquiries@barnhill.school to arrange a tour at a later date.
Arrangements for Sixth Form Open Evening 2021
We are delighted to be able to invite parents and students in to the school this year and Open Evening is from 5:30pm, with last visitors expected by 7:30pm. The evening and school will close at 8:00pm.
IMPORTANT: To confirm your attendance, tour and presentation wishes then please complete this short form.
Presentations
Due to health and safety we will only be able to gather in groups of 50 people in the Assembly Hall and only students from other schools and parents from Barnhill or other schools. During the evening there will be two presentations given at 5:00pm and 6:00pm.
If you would like to book for either of the presentations then please do so using the short form above.
Existing Year 11 students will have the same presentation delivered in assembly time and are asked not attend the talks during Open Evening.
Tours of the school
Students and parents who are already familiar with Barnhill may guide themselves around the building and make use of the Sixth Form volunteers and staff on hand.
If however, you are new to Barnhill then we will be arranging a guided tour around subject specialist areas for you to talk in person with the Sixth Form teaching staff and to view the facilities. Tours will take place on arrival throughout the evening.
Visitors will use external doors to classrooms wherever possible, so that the corridors do not become too busy. All visitors should also respect all other visitors' personal space during the tours. Anyone wishing to wear a face covering may of course do so.
There will be staff in each department who will show learning in action and answer any questions you may have. You will also be able to speak with existing Sixth Form students who will be assisting around the school and in each classroom.
Making an application to Barnhill Sixth Form
The 'Application Information' page of our website contains all of the essential deadlines and details as well as access to our online application form.
Once you have completed the application form before the deadline, then we will meet in person to discuss your application further in February and March at Future Focus Evening.
Enrolment occurs on GCSE Results Day and the days that follow. Please note that spaces are limited to 160 students per year group.