Attendance
Attendance Matters - Every School Day Counts
At Barnhill Community High School we aim for our students to gain the greatest benefit from their education and it is vital that they attend regularly and are at school, on time, every day, unless the reason for the absence is unavoidable.
Why Regular Attendance is so Important
Regular absence can have a serious impact on their learning. Any school absence affects the pattern of a child's learning schedule and disrupts teaching routines affecting the learning of others within the same class.
Attendance Expectations & Procedures
All term time absences are unauthorised except in extreme circumstances, where a meeting will be held with Parents/Carers and the Headteacher.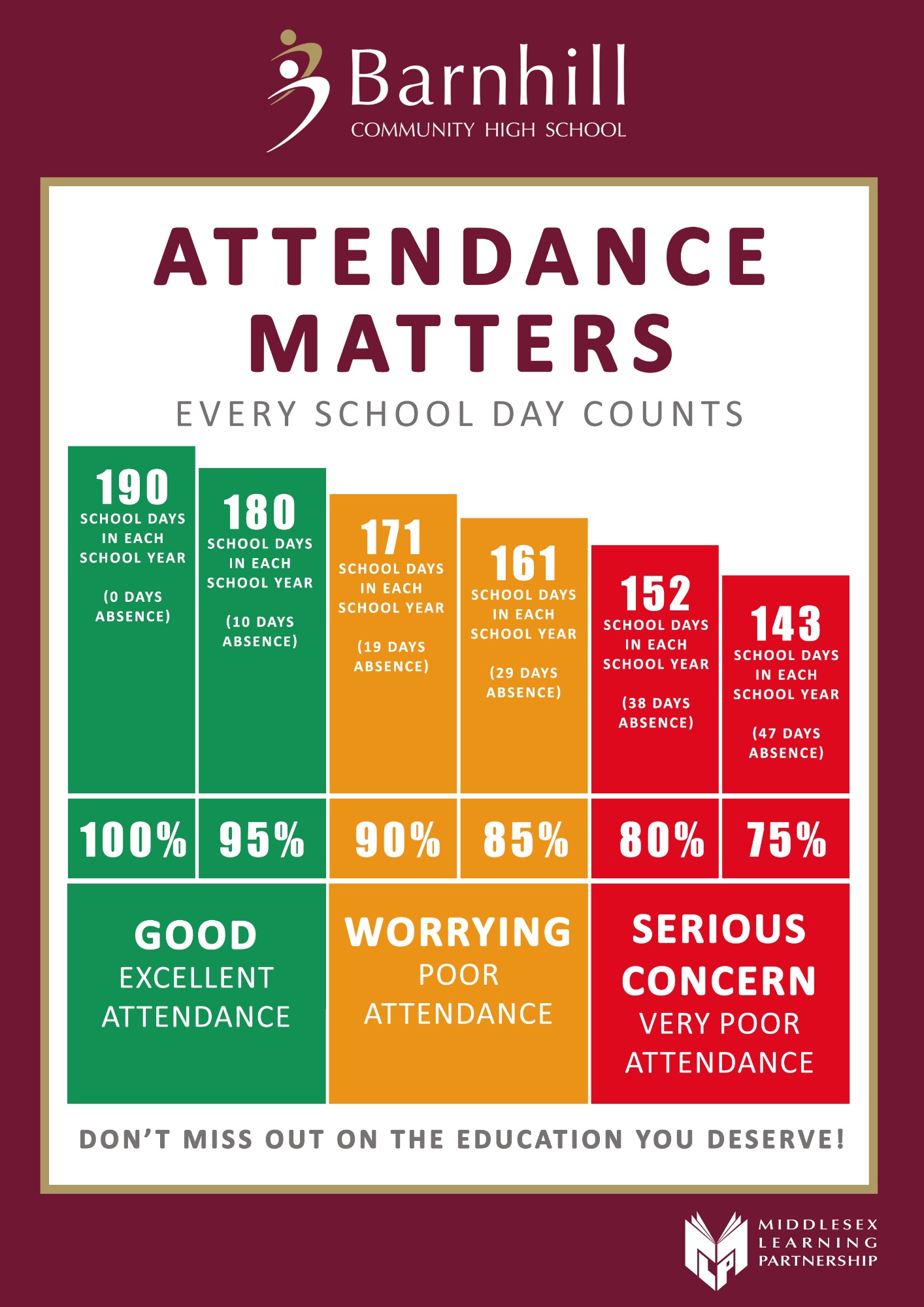 Late To School
A student is late to school if they attend after 8:20am, which is the start of morning registration. Form Tutors will mark student present with a 'L' and input the minutes after 8:20am by right-clicking the 'L' on the SIMS register.
Detention Procedure
A student who signs in late at reception is then given a lunchtime detention for 60 minutes and should attend the Assembly Hall as soon as lunchtime begins. Students are responsible for attending their detentions and can check the time and location of any detention on the Pastoral Support Managers board outside their office. If a student misses a lunchtime detention by choice then they will be sanctioned further with a Head of Year 1 hour detention after school.
If a student misses the HOY detention they may be contacted home if this is a repeat offence and will then miss their break and lunchtime for 2 days in the Referral Room. If a student fails to comply with this sanction parents will be contacted by the HOY and informed that they have a 2 hour SLT detention on Friday after school in the canteen. HOY or PSMs will collect students with a poor track record of attending detentions or collect their bag and possessions to deliver to the Deputy Headteacher, Ms. Hernandez.
If a student misses an SLT detention then the Assistant Headteacher for their Key Stage will request that they spend an extended day in the Referral Room the following Monday and parents will be contacted by the HOY, PSM or AHT to explain the escalation process and the opportunities that the child had to comply with the Late to School Policy which they have ignored.
Students may be set a HOY Detention immediately for instances of the following in school:
Truanting a lesson (in the first instance, then a day in Referral Room).
Break or lunch time Incidents and arguments.
Repeated disruption in lessons.
Repeated uniform/mobile phone policy/confiscated items infractions.
*Students will ALWAYS have the chance to get lunch from either the Snack Shack or Canteen when in a detention over lunchtime.